Residential New Build
---
Here at Parsons & Joyce we have been building new homes for over 20 years and in that time we have worked on projects of all sizes and budgets. Our highly-skilled building team have the knowledge and expertise to undertake almost any new build project. The needs and requirements of the client are at the heart of all that we do and we aim to complete every project on time, on budget and to a very high standard.
Design Assistance
If you are looking for an architect to help plan your build, we can provide you with one. Alternatively, we can work from any existing plans you may already have. Parsons & Joyce are experienced project managers and as such we are happy to overview every aspect of your build schedule from the planning stage right through to completion. By taking full control of a project we can work more efficiently and can meet any budget restraints more easily. However, we are equally happy to work as contractors. Whatever option you choose, we aim to offer a friendly, welcoming service that is comprehensive in its approach.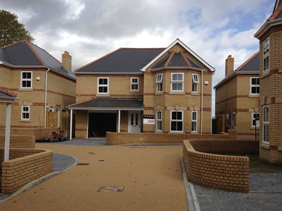 Consultation
Before any work commences a member of our team will meet with you to discuss the feasibility of your plans and help you to choose the best options going forward. This free-of-charge consultation includes a cost estimate and groundworks survey.

Building Dreams
At Parsons & Joyce we have all the necessary skills to make your dream house a reality. Whether your project is a traditional brick build or requires a timber/metal frame, our hand-picked team of expert tradesmen have all the necessary skills in carpentry, brickwork, roofing etc. to ensure your new home is built to the highest possible standard. We only use the very best quality materials available, ensuring exceptional performance and durability.